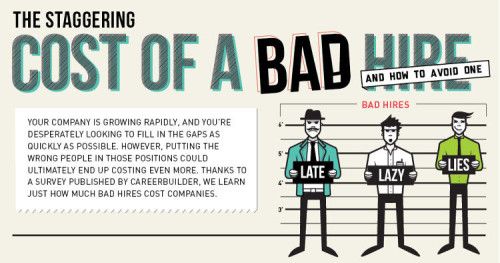 'She interviewed so well, responding to every question with composure and good examples. Her resume and LinkedIn profile were so professionally written and we even checked her out on Facebook. No red flags. But now that she's onboard, both her direct reports and management are finding her prickly and demanding. Her staff is demoralized. Where did we go wrong?'
Has your company ever experienced a similar hiring error? Unfortunately, many have, and the negative consequences are significant. According to the American Management Association, the financial cost of a first year bad hire is 1.5 times total compensation. A bad hire is hard to recover from since it adversely affects the morale of other staff, the company's ability to nimbly respond to changing conditions and even the company's reputation.
Companies that have experienced a poor hire may have spent just a few hours with a candidate prior to hiring them for a key role. The candidate's written material may paint an overly rosy picture, and some contain outright fabrications. The Society of Human Resources Management cites that 53% of all job applications contain inaccurate information; an article published in 2003 in the Wall Street Journal reported that 34% of all application forms contain outright lies about experience, education, and ability to perform essential functions on the job. Also, many interviewers are inexperienced, do not ask the "right" questions and may be blinded to warning signs because they want to get the job filled.
But what if you had a partner and a process that could greatly reduce the chances of a bad hire? When Talencio assists companies in making a direct hire, we understand that while the resume and interviews are important elements to making an informed decision, they do not reveal a full picture. For direct hires, we always recommend that the company add a third leg to the due diligence process: the use of a written assessment tool. An assessment tool can reveal much about a candidate that otherwise may get overlooked, providing insights that might not be available from a review of written and online materials about the candidate and interviews. Of course, not all assessment tools are equal. Some are extremely robust and require a trained professional to evaluate and interpret the results – and are therefore more costly than less robust assessment instruments. When the costs of an assessment are compared with the cost of poor hire, the decision is obvious. Talencio has experience with several instruments and has selected two which we think serve our client companies extremely well.
To learn more about how other Life Science companies have partnered with us to overcome hurdles and capacity issues, and make well-informed hiring decisions, contact me at 612.703.4236 or email me at: pnorbom@talencio.com. Talencio, LLC has been the preferred provider of vetted, accomplished professionals to the Life Sciences community for over seven years.
Sources: