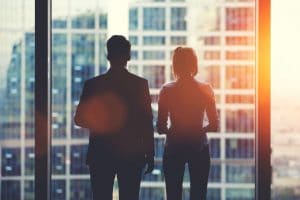 A 2012 Harvard Business Review article predicted that the growth rate of outside talent, including contractors, would be three to four times the growth rate of the traditional full time employee and that 25 percent of the workforce would be made up of contract talent. Additionally, Toptal's 2017 State of the Workforce Report noted that contract talent makes up about 26 percent of the workforce, with up to 33 percent in smaller organizations.
Demand for contract talent has been growing 20 percent year over year and is expected to increase to 43 percent by year 2020. According to a recent Toptal survey, 91 percent of organizations already use outside talent with the greatest use by smaller organizations.
Why the Spike in Contract Talent?
For business leaders and hiring managers, finding talent to fill positions is very challenging. In fact, 78% of business leaders consider capturing the right talent to be a primary hindrance from reaching their organization's goals. The rise in contract talent has the potential to address this challenge.

30 percent of contract talent are highly skilled at what they do. Choosing to hire an experienced contractor is beneficial in solving the following needs and more:
If there is a project needing to be accomplished that requires specialized skills, hiring a contractor would ensure that the project gets completed effectively and efficiently.
Hiring a contractor offers cost flexibility by allowing you to avoid the high cost and risk of hiring a full time employee.
Contractors drive innovation. Contracted talent brings in fresh knowledge and ideas that have the potential to differentiate your organization from your competitors.
What Does This Mean for Your Organization?
Company leaders and employees must change their perspective of contractors.
The idea that contract talent is less important, or less committed than full time employees must be abandoned. Rather, contract talent must be acknowledged as people who bring unique experiences and new approaches to finding solutions.
Learn to Innovate.
In an economy where innovation is constantly sought, it can still be quite difficult to get ideas approved. However, 70 percent of all attempts at organizational change still fail. When you find yourself stuck in this situation, Talencio recommends bringing in someone with a different skill set, perspective and experiences to aid in achieving success in innovation.
Use of outside talent is increasing now more than ever. Leveraging this trend is crucial to meet your talent demands and broader business goals. If your organization is in need of contract talent to help you innovate, let's connect!

Written by: Isaac Pirk, Talencio intern and student at North Central University, Minneapolis, MN.

About Talencio: We help the Health Technology community make progress by putting the right people in the right place to solve problems and identify opportunities to move healthcare forward. To learn more about career opportunities in health technology, or to hear how other companies have partnered with Talencio to tap into our skilled professional talent pool, contact us at 612.703.4236 or email. Talencio has been the preferred provider of vetted, accomplished professionals to the Health Technology Community for over 10 years.

Other related blogs that may be of interest are: "Have Your Cake and Eat It Too" and "Misconceptions about Contract Professionals"

Sources:
Recruiter Box
Toptal Report
Harvard Business Review
NASDAQ