In early July, I fished with my dad on Lake of the Woods in Canada. He is a pro and a fishing guide in his retirement. We typically cast for muskie in the rocks and weeds along shore. To give ourselves a break, we also jig for walleye, schooled among the bait fish. This year, I caught a 33.5 inch trophy walleye, the biggest Sportsman's Harbor has ever seen.

Over the years, I've learned quite a bit about fishing that can be applied to managing a department, running a company or reaching your annual and monthly goals. The second of these lessons is "Use the Right Gear" – the stuff specifically meant for the fish you are catching.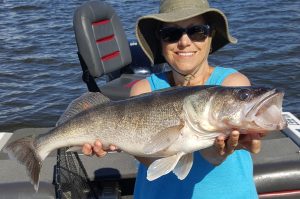 While walleye fishing, my jig snagged in a rock 20 feet below surface. I intentionally cut the line and since I didn't have enough line on that rod, I switched to a light salt water 8.5 foot rod with 10 pound super braid line and a 20 pound fluorocarbon leader. In the second cast, the fish struck. It took out line/drag. I reeled with all my might. My pole bent in half and my muscles ached. It was a 33.5 inch, 14 pound walleye! Imagine if I had my original 7 foot rod with 8 pound test line tied directly to the bait. The line would have snapped and my trophy fish vanished.

Are you using the right gear to get the job done? Not only did I have the right rod and reel to land my walleye, I had the right bait, a football jig with a munchie. Do you have the optimized software, IT equipment, manufacturing equipment, development tools, etc. to effectively do your job? If not, you will cost yourself and your team valuable time and likely money. Evaluate the tools you use on a regular basis. Technology changes at a rapid pace so keep current with your knowledge. Evaluate it for your projects and team and make recommendations for changes, when applicable. You may be surprised with how quickly you can land a return on your investment.

We did make one mistake in landing the trophy walleye. We brought the walleye in by hand rather than use the net. Why? Because we had been bringing in all our walleye by hand and why would this one be any different? Make sure you are using all the tools and equipment at your disposal to efficiently and effectively get the job done. Don't be lazy and say this is what we've always done. Are you focused on catching the trophy fish? Leverage your tools, avoid unnecessary risk and you will be a champion!

To learn more about how other medical device, bio-pharma, health IT and healthcare companies have partnered with us and tapped into our skilled professional talent pool of experts, contact us at 612.703.4236 or email me at pnorbom@talencio.com. Talencio has been the preferred provider of vetted, accomplished professionals to the Life Sciences community for over eight years.