The first five blogs of this series covered: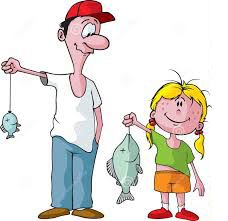 1. "If You Aren't an Expert, Hire One"
2. "Are You Using the Right Gear to Get the Job Done?"
3. "Do You Know When to Shift Gears to Excel in Your Job?"
4. "Do You Have a Backup Plan?"
5. "Are You Positively Flexible in Your Work?"
Over the years, I've learned the importance of the above tenants which can be as easily applied to fishing as they can to managing a department, running a company or reaching your annual, quarterly and monthly goals. The sixth in this series is "Are You Following Best Practices."
In early July, I fished with my dad, for a week, on Lake of the Woods in Canada. He is a pro and a fishing guide in his retirement. We typically cast for muskie in the rocks and weeds along shore. In fact, 90 percent of the time, while in Canada, we fish for muskie, the king of fish. We also fish for walleye. In between these, we caught many northern, small mouth bass, rock bass, crappie and perch.
In Parts One – Four, I shared my experience catching a trophy walleye. In Part Five I shared my muskie catch. None of this would have been possible without following these 10 best practices. Each one could be a blog by itself. I've placed them in a table with a business application tied to each.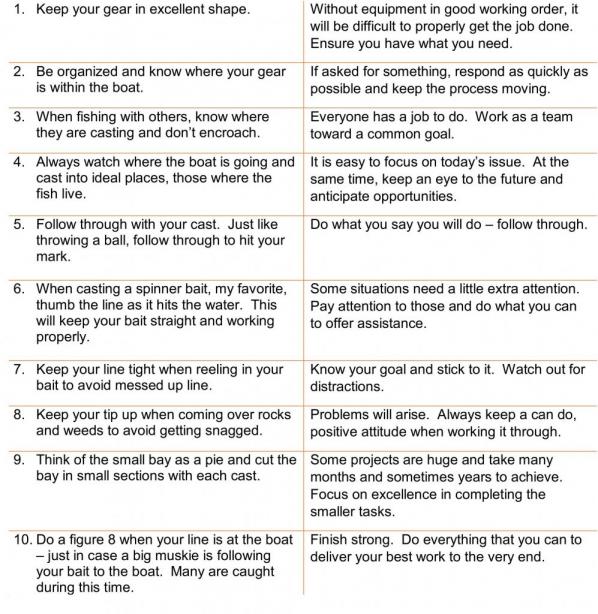 For those of you who love to fish, I hope you enjoyed my insights and analogies on fishing and business. For those who do not fish, perhaps you learned something that you can apply to a new fishing or business experience. I do know of a great fishing guide in Eagle River, WI! Wishing you all the best of success in whatever your endeavor!
To learn more about how other medical device, bio-pharma, health IT and healthcare companies have partnered with us and tapped into our skilled professional talent pool, contact me at 612.703.4236 or email me at pnorbom@talencio.com. Talencio has been the preferred provider of vetted, accomplished professionals to the Life Sciences community for over eight years.