Despite the increasing regularity of contract professionals in the workplace, there are still widespread misconceptions about contract professionals, and temporary employment overall, which dissuade companies from incorporating a contract staffing firm into their talent strategy. As getting the right talent means understanding recruitment trends, companies searching for more efficient recruitment techniques should question whether they hold any of these popular misconceptions:
Temporary employment strategies aren't trending, right?
Temporary employment is trending in both global and national markets. Temporary workers make up 32% of the global workforce today, a percentage that's expected to grow by more than 10% by the end of 2017. In the U.S. markets, temporary positions accounted for nearly 11 percent of all new jobs since 2009. Moreover, the demand for temporary workers has been consistently increasing on a seasonal basis over the past 27 consecutive quarters (1st quarter to 1st quarter, 2nd to 2nd, etc.), and is expected to have increased an additional 1.5% from last year's fourth quarter to this year's.
But contractors are mostly blue-collar or low-level office administrative workers.
Today, many contractors are contract professionals with highly specialized skillsets. Staffing firms frequently offer workforce solutions with these contract professionals, and are sometimes able to compete with the big professional services firms as a result. These contract professionals can be found in nearly every industry, from finance to health services. In fact, many of these contract professionals are baby-boomers with substantial professional experience. For companies wanting to tap into the professional talent of the baby-boomer generation, searching for proper contractors is a must.
Professional-quality workers don't have any reason to do contract work.
Contract work gives professional-quality workers an opportunity to make an informed decision before attaching themselves to a company. Contract work also gives companies an opportunity to make an informed decision, as they're essentially "trying before buying." In many cases, a contract-work relationship puts to ease both the professional-quality worker and the hiring company.
A core group of committed employees is the best talent strategy–contractors should only be used in the absence of such a group.
Contract professionals can work well in conjunction with a core group of committed employees; in fact, contract professionals often improve upon a core group of employees. While most companies profit from maintaining a core group of employees, contract professionals can fill a temporary need in the company. In short, contract professionals offer flexibility. The average time-to-fill for jobs across all U.S. industries has been steadily climbing since 2009, especially in health services where it sits at 49 days—but that's not even taking into account the time between the hire and the start of work, which often tacks on weeks to that time.
For a contract staffing firm such as Talencio, contract professionals may begin working in just a couple weeks. That is, the time-to-fill combined with the time from being hired to working is substantially shorter for contract staffing firms than the average time-to-fill alone for other long-term work agencies. A core group of committed employees may provide long term stability, but the addition of contract professionals ensures that a company remains flexible short-term. In addition, contract professionals often provide an unmatched degree of specialization that can quickly and efficiently solve complex problems within a company.
Are these types of misconceptions about contract professionals really that popular?
Let's just look at the numbers: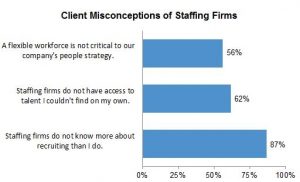 Talencio has been the preferred provider of vetted, accomplished professionals to the Life Sciences community for over nine years. To learn more about how other medical device, bio-pharma, health IT and healthcare companies have partnered with us and tapped into our skilled professional talent pool, contact us at 612.703.4236 or email.
Written by: Jonah Mische, Talencio intern and student at Davidson College, Davidson, North Carolina.
Sources:
The Temp Trend Is Permanent, Roy Mauer, HRMagazine
How Top-Performing Staffing Firms Are Outpacing the Industry, Eric A. Gregg, CEO, Inavero Inc.
PondelWilkinson News Release, October 13, 2016
New Report Reveals the Trends That Will Define Recruiting in 2017, Maria Ignatova, October 3, 2016
Photo, Terence & Becky
Photo, 4 Misconceptions About Healthcare