In 1868, Susan B. Anthony's paper, The Revolution, advocated an eight-hour workday and equal pay for equal work. She encouraged working women from the printing and sewing trades in New York, who were excluded from men's trade unions, to form Workingwomen's Associations. As a delegate to the National Labor Congress in 1868 Susan B. Anthony persuaded the committee on female labor to vote for women and equal pay for equal work. In the end, the men at the conference deleted the reference to the vote.
Fast forward to 2023, over 150 years later, and we're still talking about equal pay for equal work. As pay transparency becomes a bigger workplace issue, many employees are calling for the practice, and several states and cities are enacting laws requiring it. Colorado first enacted the law in 2021 and it is quickly picking up steam. About 1 in 4 employees live in an area where employers are required to share pay ranges, according to Seattle-based firm, PayScale.
Currently, more than 40 percent of U.S. job postings on Indeed include employer-provided salary information, a three-year increase of 137 percent, according to Indeed. New state and local laws are impacting some of this increase. However, researchers are seeing increases in areas where pay disclosure requirements do not exist. Payscale, noted similar results.
The warning for employers who are not regulated to post pay ranges – "Lose out on job candidates if you don't post a salary range." Employees and job seekers are calling for the practice. Recent SHRM research found that 70 percent of companies listing pay ranges in job postings led to more people applying, and 66 percent said it made them more competitive in attracting top talent.
Finally, posting pay ranges shows a progressive lens and a likely more satisfying work experience as candidates evaluate a variety of options. Pay transparency can also promote employee trust, loyalty, and productivity – all which can improve a company's bottom line.
Consider your organization's strategy in attracting the best candidates for your roles. Also consider labor regulations applicable to your geography. Finally, do the right thing and pay your employees equal work for equal pay. Pay transparency is not going away. Talencio has the resources to assist your organization in mapping out appropriate pay scales.
About the Author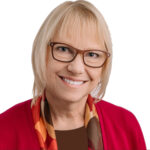 Paula Norbom is the Founder and CEO of Talencio, an executive search and staffing firm serving health technology companies. She has worked in the health technology space for over 24 years. Prior to launching Talencio, Paula was an executive for several medical device companies, leading accounting and finance departments. Paula covers leadership topics related to employment and health technology.