Cue the Motown sounds of Marvin Gaye's most popular song, "What's Going On?" It's a question that employers are asking, both in the U.S. and around the world, as they see a major shift in today's model of working. Here are some indicators of the sea change cited by Jacob Morgan in his recent Forbes article, "Is the Future of Work All about Freelancers and Independent Workers?"
• 80% of executives say their companies are increasing their use of contingent workers (SAP and Oxford Economics report)
• By 2020, 40% of workers in the U.S. will be freelancers (Intuit)
• Today there are 30 million independent workers; by 2019, that number will grow to 40 million (MBO Partners)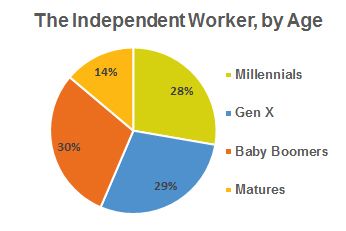 With this ever-growing portion of the workforce involved in freelance work, we thought it would be helpful to shine a light on the independent workforce – who are they and what motivates them. In their 2014 State of Independence Report, MBO Partners provides a snapshot of "solopreneurs" and "side-giggers." Independent workers are represented in every age group (see pie chart) and the genders are represented nearly equally (with men making up 52% and women 48% of all independents).
In this blog post, we will focus primarily on solopreneurs: those who are 21 years old or older and who work consistently more than 15 hours a week in a freelance capacity. The MBO Partners study found that solopreneurs had these attributes:
• Majority work more than 35 hours/week
• Have an average tenure of 9.4 years
• 19% also have a traditional full-time or part-time job
• 57% like being their own boss
• 16% said supplementing income was a motivator
While one might presume that this significant category of workers would diminish as the economy improves, the MBO report casts doubt on that assumption and predicts expansion, instead. Consistently across the 4 years that they have been conducting this annual census, MBO Partners has found that more than half (54%) of solopreneurs indicate that they actively chose this path; 32% said that choice plus other factors played a role in their decision; 14% said that their decision to work independently was due to factors outside their control. Interestingly, money does not seem to be the primary motivator for solopreneurs. Factors that motivate the decision to work independently include:
• Control my schedule – 63%
• More flexibility – 61%
• Like being my own boss – 57%
• Make more money – 36%
Solopreneurs seem to be getting what they want: 63% rate their satisfaction as very high (8-10 on a 10-point scale) and 20% actually assigned a top score of 10. Another 19% say they are satisfied (7 on a 10-point scale).
Let us help you navigate this sea change. We're invested in the success of the Life Science industry and we'd like to help your company be successful, too. To learn more about how other Life Science companies have partnered with us to overcome hurdles and capacity issues, and make well-informed hiring decisions, contact me at 612.703.4236 or email me at: pnorbom@talencio.com. Talencio, LLC has been the preferred provider of vetted, accomplished professionals to the Life Sciences community for more than seven years.