Are American Medical Device Companies losing their leadership in the world of innovative medical technology?
 
The Advanced Medical Technology Association two years ago suggested that "the innovation ecosystem that supports medical technology is severely stressed. The U.S. has historically been the world leader in medical technology, but our leadership is eroding." But a closer look at recent history would suggest otherwise.
In 2015, the year that AdvaMed released their innovation agenda, the U.S. medical device market value was worth 43% of the entire global market. The U.S. not only possesses the largest medical device market, but it remains a major exporter of innovative products to the rest of the world: in 2015, exports of medical devices from U.S. companies were well over $44 billion in key product areas, and general medical/technical equipment exports exceeded $83 billion. 2015 was a record year for investment into small innovative device companies, and the United States continues to put out more medical device patents at a higher rate than the rest of the leading world markets combined.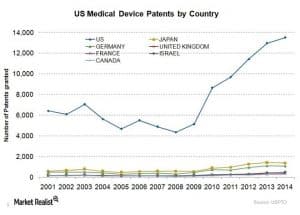 The United States is set up to remain a driver in innovative medical devices. It helps that America is also the global center of microelectronics, telecommunications, instrumentation, biotechnology, and software development. As the field of medicine continues to evolve, this ensures that American medical device companies will continue to be advantageously located as the leaders of research and development for the future.
The creation of Galvani Bioelectronics is one of many examples from the past two years of major global pharmaceutical companies relying on leadership from the U.S. device industry. They are recognizing that electronic and software development holds the key to the future of first-line medicine, and are partnering with American medical device companies to access the talent and resources required to engineer a future of personalized medicine.
That all being said, AdvaMed does still have one thing right. The innovation ecosystem for medical devices in America is still stressed. But it isn't all the result of legislation and bad regulation. The medical device excise tax is likely to be repealed, with the new Protect Medical Innovation Act of 2017 currently on the table. FDA regulations are turning more towards cyber security as the result of an industry change driven by American innovation, and global market competitors like the European Union are increasing the robustness of their own regulatory processes. The stress comes from American innovators moving too fast.
New small device companies keep sprouting up across the country with new competitive innovations, and the industry is running up on a shortage of quality talent in the United States. Universities aren't churning out qualified engineers and technology experts at high enough rates, and millennials are less likely than previous generations to work for small companies that don't show much potential for upward mobility. Talent scarcity is an issue American device companies will have to address to protect their advantage at the top, but erosion of industry leadership is an idea that today feels far-fetched. Are American medical device companies still in the lead? Yes.
Talencio has been the preferred provider of vetted, accomplished professionals to the Life Sciences community for over nine years. To learn more about how other medical device, bio-pharma, health IT and healthcare companies have partnered with us and tapped into our skilled professional talent pool, contact us at 612.703.4236 or email.
Written by: Jordan Hughes, Talencio intern and student at Washington University in St. Louis, St. Louis, MO.
Sources:
Select USA: Medical Technology Industry in the United States
Investing News: Medical Device Trends
ITA: Medical Device Industry Assessment
Market Realist: No. of Patents By Country