In the first two blogs of this series, I talked about "If You Aren't an Expert, Hire One" and "Are You Using the Right Gear?".  Over the years, I've learned quite a bit about fishing that can be applied to managing a department, running a company or reaching your annual and monthly goals.  The third of this series is "Do You Know When to Shift Gears?".

In early July, I fished with my dad on Lake of the Woods in Canada.  He is a pro and a fishing guide in his retirement.  We typically cast for muskie in the rocks and weeds along shore.  In fact, 90 percent of the time, while in Canada, we fish for muskie, the king of fish.  However, muskie don't always bite and when they aren't, we switch to catching fish that are.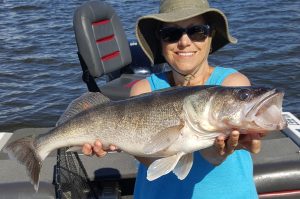 This time we went after some walleye for dinner and drove to a faithful spot.  While jigging, my bait snagged in a rock 20 feet below surface.  I intentionally cut the line and since I no longer had enough line on that rod, I switched to a light salt water 8.5 foot rod with 10 pound super braid line and a 20 pound fluorocarbon leader.  In the second cast, the fish struck. It took out line/drag.  I reeled with all my might.  My pole bent in half and my muscles ached.  It was a 33.5 inch, 14 pound walleye!  Imagine if I had my original 7 foot rod with 8 pound test line tied directly to the bait.  The line would have snapped and my trophy vanished.

Are you adjusting your strategy and shifting gears to maximize potential?  Following are a few business-focused examples:

Accounting:  Are new tax regulations negatively affecting the bottom line?  Count the cost to the organization and develop a plan to minimize the financial impact.

Clinical Research:  Are snags encountered during clinical research preventing you from completing the study?  Consider your options, weigh them and implement the ones that appear to be the best?

Human Resources:  Is your organization in need of people and you don't have the time or it is taking too long to attract the right talent?  Evaluate other strategies including working with a trusted partner with the skill and experience within the industry to source the exact talent you need, when you need it.

Marketing:  Are you tuned into the competitive landscape and are you launching products that will generate the highest return on your investment?  If not, make a change.

Operations:  Is the team you employed to manufacture yesterday's product the right team to manufacture today's?  If not, understand the issue and switch gears.

Quality Assurance:  Are you experiencing a recurring quality issue?  Time is of the essence and the longer the issue continues, the more money it will cost the organization.  Take charge and implement a fix as soon as practical.

R&D:  Have you run into a technical roadblock and are you evaluating other avenues?  Seek wise counsel, learn from others and try another path.

Sales:  Are sales slipping quarter over quarter?  Get to the root cause (people, market, product, regulation, pricing, performance, etc.) and take another path.

We often get caught up in what is known and familiar.  We keep doing what we've always done, like fishing for muskie and thinking that will be the trophy.  It is extremely important to work a strategy but equally important to know when that strategy no longer works and switch to catching walleye or advancing your business goals.

To learn more about how other medical device, bio-pharma, health IT and healthcare companies have partnered with us and tapped into our skilled professional talent pool, contact me at 612.703.4236 or email me at pnorbom@talencio.com.  Talencio has been the preferred provider of vetted, accomplished professionals to the Life Sciences community for over eight years.