Times are changing when it comes to employees and talent acquisition, and companies need to be savvy in navigating the new landscape.
We have the lowest level of unemployment in 54 years – 3.4%.
Inflation and labor shortages were the top external challenges U.S. organizations faced in 2022.
Finding and recruiting talent is among the top three 2023 priorities for HR professionals, according to SHRM (Society for Human Resource Management).
Retirees are returning to the workforce, and many are returning to their former employer.
In the face of a recession, many companies may put headcount restrictions and hiring freezes in place.
Companies are looking to be agile and fill skills and knowledge gaps.
According to SHRM "Instead of relying only on full-time employee (FTE) hires, companies will increasingly look to interim executives and professionals to meet scaling workforce needs." Why? Employers can tap into a highly skilled workforce who can assimilate quickly. Part-time or full-time consultants and contractors bring unique knowledge and skills for specific projects. They also strategically fill gaps while companies search for permanent employees.
The trend toward contractors will be prominent throughout 2023. The number of tech-sector contractor job postings, according to LinkedIn data, tripled from January 2021 to the end of 2022, indicating an increasing utilization of contractor talent. Companies may experience savings when partnering with contractors because they do not receive health benefits, paid time off, stock grants, bonuses, and other incentives. Contractors also allow for a high level of flexibility as companies manage workload.
In high-demand fields, elite contractors may outpace their employee counterparts in compensation. However, they can be productive from day one and generate results faster than training and onboarding new full-time employees. For example, Talencio has partnered with the German head quarters of a Fortune 100 company, providing highly skilled regulatory contractors to come along side their team in completing EU MDR requirements. Our contractors work remotely with the German office to ensure their products are approved for EU sale.
Supplementing your workforce with contractors provides flexibility to quickly scale up or down as business needs rapidly change. Create a strategy to tap into this pool of talent, and assess the ways you hire contingent workers. At the same time, ensure you comply with local labor laws and partner with a reputable staffing organization.
Over the past 15 years, Talencio has been proud to serve our health technology clients, enabling them to access talent, including consultants, contractors, individual contributors, mid-level professionals, and executives.
About the Author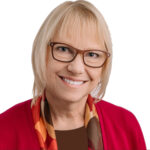 Paula Norbom is the Founder and President of Talencio, an executive search and staffing firm serving health technology companies. She has worked in the health technology space for over 24 years. Prior to launching Talencio, Paula was an executive for several medical device companies, leading accounting and finance departments. Paula covers leadership topics related to employment and health technology.