Having worked in the recruiting and staffing industry for over a decade, I've learned a few things along the way about how to write a resume that wins. This blog will coach you on how to write a resume by presenting and explaining best practices through this practical and comprehensive guide. To start, I'd like to ask one question: "How is your resume like football star, Harrison Smith?"
Harrison Smith is a safety for the Minnesota Vikings. He is known to be super good, flexible, reliable and hard working. He has grit!
Harrison Smith's Wikipedia page includes career highlights, awards, and amazing statistics.  He is a four-time Pro Bowler, First-team All-Pro, Second-team All-Pro and so much more.  He also recognizes that he needs to perform to continue playing football.  In essence, he drives his own value and brand in the market. Everyone wants to hire a winner and Harrison Smith is! 
We are all winners and let's face it, Harrison Smith cannot do our jobs! He is not an engineer, a scientist, a marketer or a salesperson. He is a football star. If we are looking to advance in our career, we present ourselves as winners for the role which we are pursuing. We drive our own unique value.
Personal Brand
A resume is a small part of developing and communicating your personal brand. Providing value at work, networking and creating a robust LinkedIn profile are also important. Today we'll focus on the resume.
First, start with knowing your personal brand…really knowing your personal brand. Do you exude energy, drive, intelligence, creativity? Are you quiet and reserved and when you speak, you really have something to say? Harrison Smith doesn't talk a lot, but he talks when he needs to.
My personal brand and that of Talencio, the company I founded 12 years ago, exudes energy and connectedness. Our corporate colors are vibrant green, orange, blue and yellow. Our logo represents connectedness and looks molecular.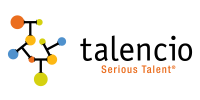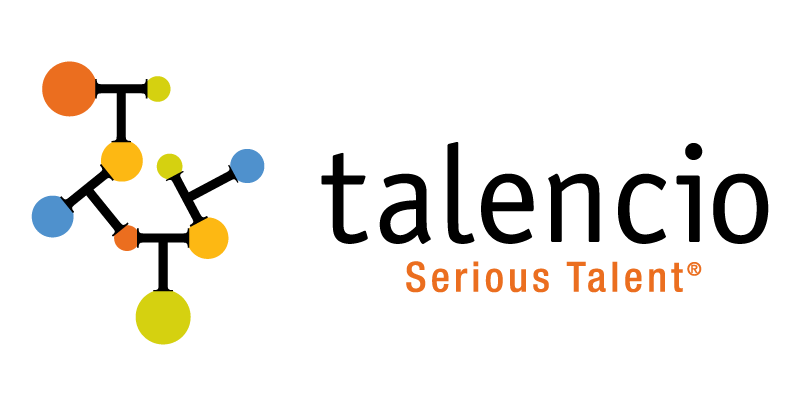 Everything Viking is purple. That helps us to quickly identify them. What color, font, and image define you? Use that in your resume, business card, and LinkedIn profile to set yourself apart and create a personal brand.
The majority of resumes I see are black and white. With the invention of the color printer in 1977 and wider use beginning in the 1980s, most of what is printed now is in color. Except, we still see a plethora of black and white resumes. Imagine your resume floating around on someone's desk with 10 other resumes. They all look relatively the same except for the one with color. Infuse your resume with your brand color and stand out from the crowd.
Header
The next step is to start writing — begin with your header. Most resumes no longer include a street address, simply include the metropolitan area or major city in which you live. If you live in Maple Grove, use Minneapolis/St. Paul, MN. This will prevent the reader from judging whether the drive from Maple Grove to Eagan is too far for you or not. Keep that in your control.
Summary
After completing the header of your resume, develop a summary to introduce yourself to the reader. Think of the summary like the table of contents in a book. A quick scan of the table of contents and the reader has an idea as to what may be inside. If the quick scan prompts the reader to read further, you have a much higher probability of getting an interview.
So what does this summary section look like?
Many professionals start off with an objective statement. This makes the process about you, not the potential employer. They are after all the end client and it should be about what they want and how you can deliver that. I suggest removing objective statements and keep the focus on the employer.
Instead of an objective statement, start out with a tag line. Skol Vikings! Is the fight song of the Minnesota Vikings. It is the team's war chant and comes from the Swedish, Danish and Norwegian word "Skal." This is a bowl that was often filled with beer and shared among friends so the word became a way of saying "Cheers!" What is your tag line in 3 – 5 words? Mine is an "Action-focused and solutions-oriented leader." The tag line for my business is "Serious Talent." Find one that uniquely suits you.
DNA
Next, take an inventory of your strengths. I like to call these your DNA. These are things you were born with. Understanding your core strengths is important because they convey who you are and how you will fit into the team or company. For the employer, this is critical as they need to ensure you are a good fit, aside from your skills. For Harrison Smith, he has grit. He probably always had grit because it is in his DNA. A great resource for identifying your strengths is the CliftonStrengths assessment. Smith is adaptable and an achiever, both CliftonStrengths. In a highly competitive football game, a player with grit, adaptability, and competitiveness is one you want on your team. Add your 3 – 5 top strengths to the first section of the body of your resume and provide a bit more context than a single word. For example, my resume would start with, "Action-focused and solutions-oriented leader who drives organizations to substantially higher levels of performance". This defines my strengths as an achiever and maximizer. In addition to this first bullet, I include 3 more. Articulating your strengths, or DNA, will give the reader a well-rounded picture of who you are.
Skills
Finally, take an inventory of your skills or areas of expertise. These are things you learned in college or on the job. Vikings defensive backs coach, Jerry Gray, comments about Smith, "He can get the ball out of the air, he can make tackles, be close to the line of scrimmage and he can be in the middle of the field." These are specific skills Smith has mastered. Generate a list of 12 – 14 one-word skills or brief phrases that define you. Enter these into a table, group them in a meaningful way, and make it easy for the reader to understand the value you bring. If you are an engineer, some of those skills may include: manufacturing engineering, FMEA, technical documentation, process validation, Six Sigma, SolidWorks, etc.
Your personal brand, along with your strengths and areas of expertise should represent the first 1/3 or 1/2 of the first page of your resume. Like Harrison Smith's Wikipedia page, these three areas define your strengths and skills and help the reader to put the rest of your resume into context.
Professional Experience
The next section of your resume is typically focused on your experience. Some title it: Professional Experience, Professional History, Work Experience or Work History. Word choice matters. Ask yourself which one sounds the best for the role you are pursuing. For instance, does "Professional Experience" or "Work Experience" sound better. In most cases, it will be "Professional Experience". As you write, evaluate how the reader may react to the words you use. Ensure you elicit the most positive response possible.
Most of us know who Medtronic and Boston Scientific are. If you work for a smaller organization, don't assume that the reader is familiar with your employer. Write a sentence or two explaining the organization including, the service or product and the organization size in terms of people or revenue. This puts your experience into perspective. Working at a large, multi-billion dollar corporation is very different than working at a medical device start-up.
Next, summarize your primary responsibilities. This answers the question, "What were you hired to do?" Include only a few sentences on this summary. Finally, include your accomplishments in a bulleted list. Refer to metrics to the extent you can. For example, if you completed a significant project in 75% of the projected time, that is a true success. If you were part of a team that developed a new product that addressed a $1B market, that is another significant success.
Some people do not include dates on their resume. That is a red flag for most hiring managers and they will be sure to ask you. Include at least the years. Adding the month is ok too but not necessary.
How far back should you go? Opinions on this vary. I suggest no more than 20 years unless there is a compelling reason to add more.
Education, Training, and Certifications
List your education with the most recent first. There is no need to include your GPA unless you are very early in your career.
For those who are in the later stages of their career, I suggest eliminating the dates you attended.
Do include the school, city, state and your degree.
This is also a good place to include other training or certifications you have earned.
Professional Memberships, Organizations, and Volunteer Activities
Add a final punch to your resume by including professional memberships and dates of any offices held. Also, include volunteer activities whether professional or personal. Giving back to the community is an indication of a well-rounded professional.
Other Important Considerations
White space and visual appeal are important when developing your resume. Remember that your audience is your future employer. Make it easy for them to read and understand the flow of your experience. Margins should be no less than ½ inch and even this would be quite tight. Choose a font that is modern and easy to read. Create spacing that assists the reader in quickly absorbing the content.
Long sentences and dense content are not helpful to the reader who wants to quickly determine your fit for a role. Write a sentence. Then find a way to rewrite it by eliminating 10% of the original content, while maintaining the original meaning.
Imagine a bullet on a resume for an R&D Engineer that states: "Spent multiple weeks resolving FDA warning letters for a new company acquisition, wrote, reviewed, and implemented multiple CAPA's." An alternative would be, "Resolved FDA Warning Letters for a new acquisition through significantly improved CAPA management." This change represents a 28% reduction in words, leads with a strong action verb and still gets the point across. It also allows the candidate, in an interview, the opportunity to further explain how he accomplished the task.
Pulling it All Together
Think of your resume as a football field.
The first 10 yards include your header with your name and contact information.
The next 20 yards are your summary including your tag line, DNA and Areas of Expertise or Skills. If you are not able to advance through this section, you will have a lower success rate at getting to the end zone which is an interview.
The next 50 yards encompasses your professional experience. Start each bullet with an action verb and advance through your relevant experience. Keep metrics in mind. Harrison Smith has some impressive metrics. What are yours?
The next 10 yards represent your education, and finally, the remaining yards reflect your activity within professional organizations and volunteer activities.
Remember to color the field with your personal brand. Be a winner, work the process and advance your career!
Check out the example resume below for visual reference:
Talencio has been the preferred provider of vetted, accomplished professionals to the Health Technology Community for over 11 years. To learn how other companies have partnered with Talencio, tap into our skilled professional talent pool, or learn about career opportunities, contact us at 612.703.4236 or by email.
Written by: Paula Norbom, President, Talencio, LLC