Have you ever gotten a call from a recruiter presenting the "perfect opportunity" for you, only to find out it was a total mismatch for your skills and experience? If you are "going for the gold" in your career search and "vaulting to new heights" – Talencio is a great partner and we can prove it.

At Talencio we pride ourselves in our ability to get to know our colleagues beyond what is on their resumes. We make every effort to understand the skills and talents each colleague brings to the life science community and to ensure marketable talents are positioned thoroughly and professionally. Our goal is the right fit for both the colleague and our client.

Talencio recently conducted a satisfaction survey with colleagues. Each had been placed in either a contract or direct hire position. It was all good news! Talencio's commitment to spending the time necessary getting to know applicants; including a thorough vetting process, career counseling, and ongoing communication paid off with strong scores.

We asked applicants to rate Talencio in 5 categories using a scale from 1- 5 with 1 as "Strongly Disagree" and 5 as "Strongly Agree". Here are the results:
Ratings don't tell the whole story. Out of many colleague testimonials, we selected the following as a reflection of a colleague "vaulting to new heights" amd Talencio's values in action:

"Working with Talencio was a great experience. When Anna contacted me, I had recently completed my MBA and was looking for a promotion. She took the time to understand how my background prepared me to perform at the next level, and she ensured my skillset was presented to best demonstrate my abilities. I felt like she was not only trying to find a person to fill a position, but also really cared that the position would be the right fit for me.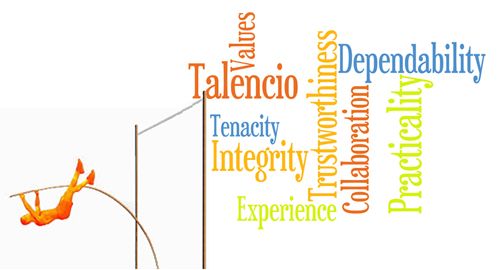 Throughout the process I could openly ask questions about topics I might not feel comfortable asking a potential employer directly. I spent several hours talking with both Anna and Paula, and we did both phone and in-person practice interviews. By the time I actually interviewed with my current employer, I was incredibly prepared and really understood what they were looking for in a candidate.

My new position is a great fit, and I am really enjoying this new phase in my career."

To learn more about how other professionals have partnered with us and tapped into our ability to make the right fit for our colleagues and our clients, contact me at 612.703.4236 or email me at pnorbom@talencio.com. Talencio has been the preferred provider of vetted, accomplished professionals to the Life Sciences community for over eight years.