The process of hiring a new employee is no easy task. It is time consuming, expensive and at times, emotional. But in the end, you're hopeful the new employee joins the team with fresh ideas and new energy….that is, if they show up!
A social phenomenon that started in the dating world, has sidled its way to the workplace. 'Ghosting' is the practice of ending a personal relationship with someone by suddenly and without explanation withdrawing from all communication. Traditionally, employers have been the ones to stop communication, leaving candidates guessing where they stand in the hiring process. However, ghosting is a growing trend among candidates.
Transactional and robotic interactions make it easy for a candidate to be a no show since the human connection is missing. At Talencio, we understand the importance of building relationships with our candidates. From the moment we interact with a candidate, we provide a high touch, authentic connection and thoroughly understand career goals while providing a career coaching approach.
We guide candidates through every step of the process, offering interview prep sessions to increase confidence, and interview follow up calls to gain additional insight. We nurture candidates through important conversations around negotiating salary and benefits. Giving notice to an employer can be difficult and we provide consultation through resignation and managing counter offers.
Our consultative approach is not only for candidates, but for our clients as well. We equip hiring leaders with insights needed to connect with candidates and understand their values and goals. Providing this consultative edge helps our clients capture candidate attention from the start. Continuous communication and connecting with candidates on a deeper level, minimizes surprises for our clients and fosters a superior candidate experience.
Talencio recently placed an Engineering Manager who left a very large organization to join a smaller medical device company. Making this significant change required targeted consultation to ensure the candidate understood the differences. We described the leaders and people he'd be working with, and the changes he could expect going to a smaller company. We connected with the candidate every step of the way.
Our client recognized the importance of our consultative approach, saying: "She [Talencio] helped educate him, where it would have been very hard for me to have that conversation with him. Using her in that respect was very helpful." This candidate was highly sought after and turned down seven offers in the last year. His current employer counter offered four times, knowing he would be hard to replace. Talencio guided him into a new career transition at a great company.
Candidates who are connected to a human advocate, have a more positive journey. It's not just a company. It's not just emails. It's texts, calls, video calls, emails, and all along, they know there is another human who really cares. It's how we connect.
To advance your organization in an aggressive talent market, leverage a level of connectedness that is engaging and differentiates you amongst the masses. This is the experience Talencio provides to each of our clients and candidates.
About the Author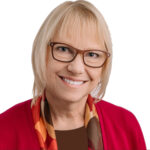 Paula Norbom is the Founder and President of Talencio, an executive search and staffing firm serving health technology companies. She has worked in the health technology space for over 23 years, as an accounting executive before launching Talencio. Paula covers leadership topics related to employment and health technology.