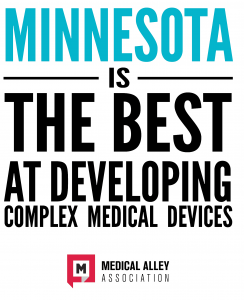 In the burgeoning Minnesota medical device community, several big-name companies like Medtronic and Boston Scientific stand out from the crowd as the principal drivers of innovation. Yet the reputation of these companies often overshadows the 600+ smaller Minnesota companies involved in the manufacturing and production side of things, many of which ultimately supply these larger companies. With more than 35,000 workers in the medical device industry and expertise in filing 510(k)s and PMAs at a rate far faster than the average, The Minnesota medical device ecosystem handles every step of medical device production, from components to end products, and everywhere in-between.
Though we're often wowed by the lions of the industry, the medical device ecosystem would collapse without its vast manufacturing workforce. This potential for self-sustainability has become a reality in Minnesota, as the Medical Alley Association reports that not only is Minnesota host to the "most densely concentrated medical device community in the world," but that "96% of its needs can be met by our supplier network here." But what are the advantages such a concentrated medical device network?
Minnesota is the most efficient region for medical device production. While the nationwide time to 510(k) clearance stands at 150 days, Minnesota does the same only 40 days faster than this average. Minnesota also leads in PMAs with a total of 371 halfway through 2017. When it comes to product development, medical devices especially, time is of the essence and time is money. The Minnesota medical device ecosystem works quickly and efficiently by operating vertically and optimizing nearly all phases of product development, management, and production.
Though they don't roar like the lions of the industry, the hundreds of regional manufacturers have quietly made Minnesota into the medical device powerhouse that it is today.
If you enjoyed this article, you may also enjoy Are American Medical Device Companies Still in the Lead?.
About Talencio: We help the Health Technology community make progress by putting the right people in the right place to solve problems and identify opportunities to move healthcare forward. To learn more about career opportunities in health technology, or to hear how other companies have partnered with Talencio to tap into our skilled professional talent pool, contact us at 612.703.4236 or email. Talencio has been the preferred provider of vetted, accomplished professionals to the Health Technology Community for over 9 years.
Written by: Jonah Mische, Talencio intern and student at Davidson College, Davidson, North Carolina.
Sources:
Medical Alley Annual Workforce Report
Minnesota Business: Med-Tech Feeders
Medical Alley