Everybody knows that hiring a bad employee is bad for business. Out of nearly 700 small business owners surveyed in the United States, 89% cited hiring the wrong person as a risk to their company, and 51% said it was a major risk. Their top reasons were negative effects on their organizations' reputations, and decreased overall productivity. But if we were to put dollars on those concerns, exactly how much is the cost of a bad hire?
Employees vary in how much risk they pose based on how valuable their position is and the nature of their company, but there are ways to predict the costs. According to an often cited U.S. Department of Labor statistic, a bad hire will end up costing their company at least 30% of their first year salary. And then that 30% figure has to be added to their initial hiring cost, plus any compensation amount paid to them, plus the total amount it costs the company to maintain that employee and of course whatever salary has been paid. And finally, add in the cost it will take to replace that employee, and you have one big mistake. The cost of a bad hire is nothing to brush off. A study done by the Society for Human Resources Management (SHRM) indicates that all this could add up to costing your company five times the bad hire's annual salary or $500,000 for a $100,000 salaried employee.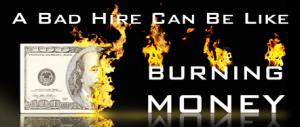 Of course, costs to your company won't simply come from the direct impact of the hire. Most CFOs actually find a degraded staff morale and lower total productivity to be more concerning than the monetary costs of bad employees. A major reason for this is damage control – when you have bad employees, the good employees have to pick up the slack, either in doing work that hasn't been done or redoing work done poorly. If the bad employee isn't getting along with co-workers, as at least 60% of hiring managers report, that puts your company at risk of losing good employees as well.
For a small company, putting a large investment into the wrong person is a big problem. And yet, 61% of small business owners say that they've done just that. So how do you avoid a bad hire?

The most common reason for hiring a bad employee is that the position needed to be filled quickly. The vast majority of employers find the hiring process overly time consuming and most wish they had help. One solution might come in the form of a third-party firm dedicated to making good hiring decisions. Resolve to avoid making a hiring mistake this year. Enlist the help of an organization with access to a pool of specialized candidates – that also has the time, tools, and expertise to properly vet them – and save your business from a world of trouble.
To learn more about how other medical device, bio-pharma, health IT and healthcare companies have partnered with us and tapped into our skilled professional talent pool, contact us at 612.703.4236 or email. Talencio has been the preferred provider of vetted, accomplished professionals to the Life Sciences community for over nine years.
Written by: Jordan Hughes, Talencio intern and student at Washington University in St. Louis, St. Louis, Mo.