Current unemployment rates are at a 50 year low. By 1975, rates rose to 9% as Baby Boomers flooded the workplace. With today's demographics, we don't expect to see the workforce surge enough to fulfill current and future job vacancies. This creates a serious issue for employers. How do you find talent to fill mission-critical roles?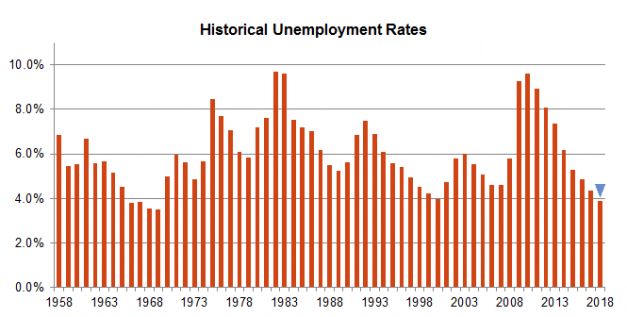 Large organizations typically have access to a talent acquisition group that aids in filling roles. They are equipped with the required tools and expertise. However, the challenge they face is ensuring they have enough talent acquisition professionals to keep the candidate funnel full.
Small to medium-sized companies may not have access to a sophisticated talent acquisition group. In this case, they need to create a strategy to ensure they have the talent required to ensure business growth. Strategic options to consider include:
Partner with a

contract staffing firm

to fill a short-term project position or temporarily fill vacancies. Large organizations go this route too.
Second, use an

internal team

to post the job, network, and hopefully fill the role. Provide a referral bonus to employees who identify hired candidates – just make sure the referral bonus is enough incentive to secure the high-quality talent needed.
Finally, partner with a

contingent or retained search firm

to fill direct hire roles. We'll outline the pros and cons of both alternatives throughout this blog. In the current employment market, your choice makes a very big difference.
Contingent search firms only get paid if they successfully fill a specific role for a client. They may be competing with one or more other contingent search firms at a time.
Retained search firms are on retainer to fill a specific role. They are not competing with other firms and get paid during the duration of the search.
It may sound beneficial to have a number of search firms compete for your business. However, there are pain points linked to this method; before taking this route, evaluate what is most important to your business.
Contingent search firms only make money if the client hires their candidate. These firms send many resumes to the client to ensure no competitor will get credit for any of their candidates.
In the end, the client is sitting on a pile of resumes which may or may not have been vetted. The client is already short on time, which is why they need to fill the role in the first place – a pile of resumes is not helpful.
Contingent firms need a quick hit – they are paying their talent acquisition team with no guarantee of client payment. In a low unemployment market, time to fill roles has significantly increased.
They've figured out how much time they can invest before giving up and they are not in it for the long haul. Someone will be a loser and that loser may be the client.
If these firms take their foot off the pedal once they reach their budgeted time, the client is left with an unfilled position. The contingent recruiting model may have worked in a higher unemployment market with a bigger pool of job-seekers, but now recruiters need to reach into other organizations to find star players.
Let's focus on employing a retained search strategy. Whether a client partners with a contingent or retained search firm, they are investing in the results of the search. However, between these two methods, the retained search firm is in it for the long haul.
Here at Talencio, our reputation is everything, and we must succeed to remain in business. That's why we dedicate resources to the search and hit it hard. It's important to us to understand the culture and specific needs of our client. We thoroughly vet candidates and only send a handful of the top talent to our client so we don't waste their time with piles of resumes.
Retained search firms, like Talencio, represent their clients in the market. We are an extension of their organization and articulate our client's mission, vision, and values as we talk with candidates.
From a candidate's perspective, they prefer working with firms like Talencio because we invest time in them, keep the lines of communication open, and walk them through the process. With contingent search firms, candidates can become a number and effective communication may or may not occur.
If you are still unsure of your search strategies in a tight labor market, do your due diligence, interview potential search firms thoroughly and contact their references. Most of all, in this historic period of low unemployment, develop your talent acquisition strategy to ensure you have the right talent, when you need it.
Written by: Paula Norbom, Talencio Founder and President.
Talencio has a deep understanding alongside a community of experts to deliver on our promise: to partner with senior management and HR executives to get the right people in the right place. To learn more about career opportunities in health technology, or to hear how other companies have partnered with Talencio to tap into our skilled professional talent pool, contact us at 612.703.4236 or by email. Talencio has been the preferred provider of vetted, accomplished professionals to the Health Technology Community for over 10 years.