The time to fill metric represents those crucial days between job opening and closure. Time to fill has recently become a sort of buzzword, especially among recruiters who recognize the necessity of maintaining a short time to fill. Generally, recruiters have been the ones advocating for a decreased time to fill – a 2016 study by MRINetwork found that 56% of recruiters cited lengthy hiring practices as the single most important factor keeping employers from adding to their headcounts, apart from the company's revenue. The story's the same for the job seekers, with 60% reporting that they would quit a typical search due to the length or complexity of the application. With the recruiters and job seekers on the same page, you'd expect employers to similarly advocate for a shortened application process – not so. A recent CareerBuilder/Harris Poll survey found that 53% of employers see a lengthy application as a good thing.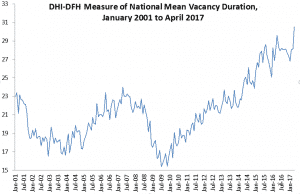 So who's right? While the answer certainly varies from application to application, a short time to fill usually indicates competency on the part of the recruiter and effectiveness on the part of an organization's workforce plan. A lengthy application process will almost always increase cost per hire while somewhat disrupting productivity as employees take on the extra work. Moreover, competitive candidates are more likely to accept offers from organizations with quicker application processes, leaving only average or slightly above-average candidates for those organizations with lengthy or inefficient application processes. Essentially, while many employers want lengthy application processes in order to secure acceptable talent, they often end up sacrificing their shot at the best talent.
For better or worse, time to fill has been steadily increasing since the Great Recession in 2009, with the average time to fill across all U.S. industries hitting an all-time high of 30.5 working days in April of 2017 – that's nearly a full day longer than the previous peak in April of 2016. Another CareerBuilder survey also found a 4% annual increase in hiring managers and HR professionals who plan to increase temporary and contract hiring. Simply put, job availability is on the rise while companies are falling further behind in their ability to promptly fill those openings.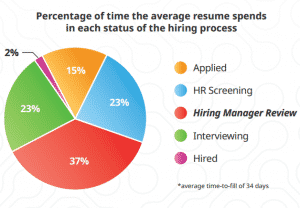 What's causing these job openings, and why aren't they being filled quickly? Here's an answer recruiters and employers can agree upon – 63% of employers and 62% of recruiters cited newly created positions as the primary reason for job openings in 2016. With expansion in mind, the need for the right talent – and fast – is greater than ever. A recent iCIMS survey found that securing the hiring manager's approval on average takes 37% of the time spent during the entire hiring process. In a national market where 4 in 5 companies cite the talent shortage as the primary talent acquisition pressure, it seems like a no-brainer for hiring managers to review candidates promptly and efficiently. Yet increasing the efficiency of candidate approval is just one way to decrease time to fill, as nearly every step of the hiring process can be improved with the right talent search strategy.
To learn more about how to secure the right talent without sacrificing time, check out Talencio's blog: Finding the One.
About Talencio: We help the Health Technology community make progress by putting the right people in the right place to solve problems and identify opportunities to move humanity forward. To learn more about opportunities in the health technology field, or to hear how other companies have partnered with Talencio to tap into our skilled professional talent pool, contact us at 612.703.4236 or email. Talencio has been the preferred provider of vetted, accomplished professionals to the Health Technology Community for over 9 years.
Written by: Jonah Mische, Talencio intern and student at Davidson College, Davidson, North Carolina.
Sources:
CareerBuilder/Harris Poll Survey
CareerBuilder Survey
DHI Hiring Indicators
Finding the One
iCIMS Hiring Insights
iCIMS Whitepaper
MRINetwork Sentiment Study