The US is in the middle of the biggest labor shortage since WW2, an 80-year span. At least 3.6 million Americans have quit their jobs each month since April 2021. Currently 11 million jobs are open in the U.S. At the current quit rate, employers will have to replace one out of three workers each year.

Reasons for leaving the workforce vary:
Pay
Lack of benefits and perks
Working hours
Lack of flexible work hours or remote work
Evaluating what they want from work, a sort of existential crisis
Returned to school
Switched industries
Addictions – opioids & gaming
Early retirement
Our unemployment rate is fairly low and job openings are extremely high. Labor supply is recovering sluggishly and is far below the pre-pandemic trend.
The labor market has never been stronger for workers. So how can employers win the war for talent?
Set a strategy and work closely with executive colleagues on human capital risk.
Retain existing employees and be aware of their career goals.
Understand your purpose and relevance as a company. A 2020 study (Korn Ferry) found that purpose-driven companies showed 40% higher levels of retention and reported 30% higher levels of innovation. Mercer also indicates relevance as a number one 2022 trend.
Ensure your organization has a high brand reputation.
Integrate ESG (environmental, social and governance) and DEI initiatives.
Employees are seeking trust, transparency, and equity from their employers.
Provide competitive compensation – Goldman Sachs' analysts expect wages to grow by around 5% year-over-year by the end of 2022. Also, understand that wage gains are being negated by inflation.
Consider the effectiveness of your managers and provide training.
Embrace flexible work schedules wherever feasible. Provide options to work remotely or hybrid.
Accelerate the reskilling of talent.
3. Look for talent in underrepresented groups such as women, ethnic minorities, non-degreed candidates, and people who live in out-of-the-way places.
4. Increase use of a variable staffing model. According to Mercer, 3 in 5 executives expect gig works will substantially replace full-time employees in the next three years.
5. Rehire former workers.
6. Ensure your digital screening techniques are not automatically rejecting candidates for formulaic reasons that could easily be adjusted.
7. Expand your capacity to recruit and work with a partner on talent acquisition initiatives.
There is no silver bullet. Companies must enlist a variety of strategies to remain competitive.
About the Author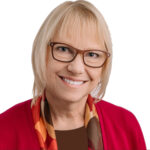 Paula Norbom is the Founder and President of Talencio, an executive search and staffing firm serving health technology companies. She has worked in the health technology space for over 23 years, as an accounting executive before launching Talencio. Paula covers leadership topics related to employment and health technology.