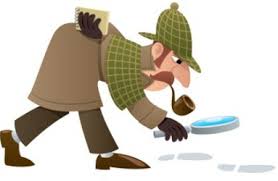 In numerous past posts here on this blog we've recounted significant shifts in the world of work and workers. On May 20, 2015, the U.S. Government Accountability Office (GAO) made public its report "Contingent Workforce: Size, Characteristics, Earnings, and Benefits." Not surprisingly, the report confirmed that the traditional model of steady, full-time employment is being eroded, and that the contingent workforce (a very broad category of workers who aren't full-time, permanent employees) is growing. The report found that contingent workers comprised 40.4% of the workforce in 2010, up from 35.3% in 2006. Most of the growth came from an increase in permanent part-timers, a category that grew as employers cut hours and hired fewer full-time workers during the recession.

Contingent workers, according to the GAO report include a wide variety of working arrangements (see table).



Citing that "labor experts have not reached consensus on which arrangements represent contingent work," the GAO report also offers data from other sources. The General Social Survey (GSS), a study conducted by the University of Chicago and released in March 2015 found that just over 16% of the workforce was comprised of independent contractors and self-employed workers. Extrapolating from both the GAO and GSS reports we might surmise that independent contractors alone may account for up to 10% of the U.S. workforce.

The independent contractor group is of particular interest to Talencio, and the GAO report provides some interesting insights about this specific group. Eighty-five percent of independent contractors appear to be content with their employment type, and 57% of independent contractors were "very satisfied" with their job arrangement. This compares to 45% of workers who held standard, full-time employment who indicated that they were "very satisfied" with their employment type.

With regard to fringe benefits, the GAO report found that while fewer contingent workers (in general) rated their fringe benefits as "good," 61% of independent contractors said their fringe benefits were "good." Perhaps this reflects an imprecise definition of fringe benefits or the possibility that the workers may perceive flexible work schedule and the ability to choose work engagements to be a fair trade-off for paid vacation and sick days.

Demographically, the GAO report found that independent contractors, in comparison with workers who hold standard full-time jobs.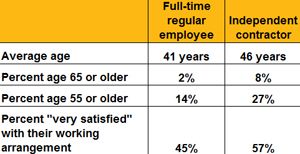 While both the GAO and GSS reports cited here were issued in 2015, each of the reports was based on data from 2010 – and a lot has changed in the world of work since then. The GAO report noted that the Census Bureau's 2014 Survey of Income and Program Participation will better reflect some of the fluidity reflected in the current labor market.

Now that you've taken a closer look at the shifting labor market, to learn more about how other Life Science companies have partnered with us to overcome hurdles and capacity issues, and tapped into our skilled professional talent pool, contact me at 612.703.4236 or email me at: pnorbom@talencio.com. Talencio, LLC has been the preferred provider of vetted, accomplished professionals to the Life Sciences community for more than seven years.

Sources:
New Data Spotlights Changes in the U.S. Workforce. Wall Street Journal, May 28, 2015.
New GAO Report on Contingent Workforce Shows 85% of Independent Contractors are "Content with Their Employment Type." Independent Contractor Compliance, May 26, 2015.