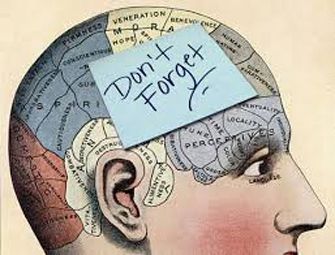 A six-part series that will get your wheels turning as you develop your personal brand.
Part III:  Be remembered – for all the right reasons

In Part I of this series, we discussed why personal branding is helpful . . . or nearly required for every business professional.  In Part II, titled "Brand Yourself Like a Fortune 500 Company", we discussed creating your guiding philosophy, defining your audience and protecting your brand. This blog looks at creating a favorable and memorable personal brand.

Sometimes I find myself searching and searching the recesses of my mind to pull up an old stored memory.  Wikipedia describes memory as "the process in which information is encoded, stored, and retrieved. Such information must be located and returned to the consciousness. Some retrieval attempts may be effortless due to the type of information, and other attempts to remember stored information may be more demanding for various reasons."

When it comes to people remembering us, we don't want to find ourselves in the category of "demanding for various reasons".  Even with a poor memory, there are certain people that stick out in our minds. There is typically a reason – they have created a memorable brand.  The first step in creating a memorable brand is to determine your brand personality.  For instance, I am energetic, approachable, a relator, an achiever, direct and connected.  Therefore, the brand that I desire to achieve is one that is alive, vibrant and connected.  That is why we created Talencio's logo to be colorful and include connectors.

As individuals, you may not have a logo but you likely show up every day with a unique look.  For me, I typically wear bright, lively colors.  That way, when I'm networking, people can easily find and connect with me. Frank Jaskulke, VP Member Services for LifeScience Alley, wears red shoes every day.  Bob Freytag, President of Introworks, wears something orange every day.  Find that visual look that is uniquely you and consistently apply it.  Focus on your clothing, manner of speaking, confidence, eye wear, hair style or jewelry.

Next, create a tag line of 3 – 7 words that describes you and the value you provide.  Famous brands have tag lines such as "Just do it", "Think Different", "Are you in good hands?" and "Innovation".  Here are some examples individuals have developed to exemplify their personal brands:
Medical Marketing Communications: Writing that makes complex information understandable
Chief Financial Officer: Raising the bar on team and financial performance
LinkedIn Business Strategist & Sales Trainer: Look good, be found, make meaningful connections
Finally, blend your visual brand with your tag line and ensure consistency across all marketing channels such as your personal business card, LinkedIn profile, other social media, signature line, thank you notes, etc.  No longer worry about another losing their memory. Move yourself from the demanding to easy-to-retrieve sections of our colleagues' memories.

To learn more about how other medical device, bio-pharma and health care companies have partnered with us to overcome road blocks and capacity issues and tapped into our skilled professional talent pool, contact me at 612.703.4236 or email me at:  pnorbom@talencio.com. Talencio, LLC has been the preferred provider of vetted, accomplished professionals to the Life Sciences community for more than seven years.