Consider employee demand for remote work, along with the talent crisis we are experiencing within health tech. While Meta announces over 11,000 layoffs; Elon Musk slashes half the Twitter workforce; and Lyft, Stripe, Coinbase, Shopify, Netflix, Microsoft, Snap, Robinhood, Chime, and Tesla reduce their workforces, the shortage of talent in the health technology industry looms large. Unfortunately, most workers exiting these tech companies do not have the transferrable skills to slide into a biotech, pharmaceutical, or medical device role, especially in the areas of clinical research, engineering, marketing, quality, regulatory, and science. 
Health tech companies across the globe are challenged with finding talent to fill technical, management, and leadership roles. Many of our clients want to hire professionals who are willing to work in the office, but times have changed.
One of our medical device clients is filling an Embedded Software Engineering role. Within their geography, their talent requirements are scarce. We partnered with our client and offered insight into how they could broaden their talent pool by considering remote workers. While requiring some effort to launch this new arrangement, they strategized to make a remote worker…work. It was a mindset change and certainly not easy to abandon current practices. Then, Talencio began a nationwide search for an Embedded Software Engineer with just the right skills and experience. Last week, a remote, finalist candidate flew to company headquarters for an in-person interview. He got the job and is excited about his new opportunity. Our client is too! Rather than settling for the best available candidate in your geography, reach top talent across the country, and find the perfect fit. 
Other benefits to remote work include:
According to LinkedIn, "Candidates increasingly want remote work – even as employers scale back on remote-job postings." LinkedIn says U.S. remote-job postings hit a high in February 2022 at 20%, attracting over 50% of applicants. By September, remote job postings fell to 14%. However, those posts attracted 52% of applicants. The demand by workers for flexible remote work is gaining strength.
Not all jobs are suited for remote work. However, broaden your thinking, consider a remote workforce where possible, and increase the size of your health technology talent pool to find the best talent.
About the Author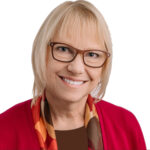 Paula Norbom is the Founder and President of Talencio, an executive search and staffing firm serving health technology companies. She has worked in the health technology space for over 24 years. Prior to launching Talencio, Paula was a executive for several medical device companies, leading accounting and finance departments. Paula covers leadership topics related to employment and health technology.