Stop Doing it Wrong – 87% of Talent Ignore Job Postings
Hiring health technology employees was already difficult before the 2020 pandemic and social strife. The sector has been booming and there is more demand for talent than supply. Check out these insights concerning medical device and diagnostic industry professionals published in July by MD+DI:
55% of all professionals are not considering a new job search
60% of regulatory, legal and R&D professionals are not considering a new job search
73% of executives are not considering a new job search
13.5% of professionals are actively looking for a new job
A search to hire a professional within the health technology industry is going to be tough because most are not contemplating a new job.
Good Question: How do you attract candidates in a tight labor market? 
Larger organizations typically have a talent acquisition department. While some departments are fantastic, others have more open positions than time to fill them. It sometimes can be a battle for hiring managers to receive the attention they deserve. Corporate politics often direct priority.
Small to mid-sized firms often do not have a dedicated talent acquisition department. Hiring strategies often consist of job postings and resume submission reviews. This is a terrible strategy in a tight job market, here's why: only 13.5% of the talent pool are looking for a new job. These candidates are called "active candidates."  They currently don't have a job, have a job they do not like, or see no future where they are.
The flip side of active candidates are "passive candidates", representing 86.5% of the talent pool.  These candidates are employed, content and engaged at their current job and they are busy – too busy to conduct a job search.  Job postings do not reach this category of candidate. It likely that your top candidate is in the passive category.
Better Question: How do you attract "passive" candidates in a tight labor market?
Attracting passive candidates can be tricky. There are tools available that make sourcing easier. However, once sourced, the candidate must be recruited. This is where a significant amount of time is invested based on the role, compensation, organization, culture and candidate. Filling a director level or above role can consume hundreds of hours even for the most experienced recruiter.
Another consideration – outreach must be sensitive. Passive candidates will only make a move if it is better than what they currently have, and your best candidates likely work for an industry competitor, partner or client. The reputation of your organization is at stake with every direct outreach.
Best Question: How do you find help to attract "passive" candidates in a tight labor market?
A third-party partner mitigates the time and risk associated in contacting, qualifying and recruiting passive candidates. They leverage their talent data base, referrals, social media, specialized sourcing and recruiting tools, and more.  When a position is critical, and time is a priority, consider partnering with a firm skilled in recruiting passive candidates, especially in a market where most candidates are not considering a new job search. Choose a partner that understands your industry and organization with the reputation, tools and people to deliver the best candidates.
Read more in these recent posts: The ESSENTIAL need to hire the RIGHT employee and The ESSENTIAL need to hire QUICKLY
Source: https://www.mddionline.com/markets/medtech-salary-survey-2020-full-report
About the Author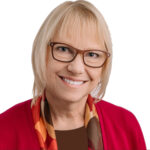 Paula Norbom is the Founder and President of Talencio, a Minneapolis-based executive search and staffing firm serving health technology companies. Paula covers leadership topics related to employment and health technology.